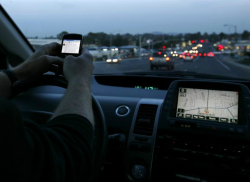 — Distracted drivers are killing themselves and others, not to mention the amount of property damage caused by crashes. And while people are plenty familiar with the dangers of texting and cell phone use, a new study conducted by the AAA Foundation for Traffic Safety shows how vehicle technology is distracting people to death.
Led by Dr. David Strayer and other researchers at the University of Utah, the study found that navigation systems are more distracting than most people have realized, taking an average of 40 seconds to program.
AAA says drivers want technology that is safe but also easy to use, but automakers have continued to create and install overly complex systems that cause drivers problems.
The problem of distracted driving has been historically underreported because many drivers never admit a simple distraction caused the crash. In addition, law enforcement has been slow to adopt specific procedures to separate which distraction was most responsible for a crash.
Adding to the frustration is how automakers create increasingly complex and hard-to-use "infotainment" systems that can be as distracting as sending or receiving a text message while holding a phone.
For the AAA Foundation study, Dr. Strayer and company used 30 model year 2017 vehicles from a variety of automakers that were picked because they were equipped with three modes of driver interaction: Voice commands, center stack displays and controls located in the center consoles.
Out of the 30 vehicles tested, 23 put a high demand or very high demand on drivers and none of the vehicles caused a low overall demand on drivers. Researchers also say there is a difference between a "high" demand and a "very high" demand, and all modes of interaction between driver and vehicle caused a very high overall demand on drivers.
Then there are questions about how much voice-activated systems help drivers concerning distractions, and results of the study show voice-command systems don't really help with distractions at all.
Using voice commands to control infotainment system functions results in lower levels of visual demands than other modes of operation. However, the benefits of reduced visual demands are cancelled out by longer interaction times needed by a driver.
According to the study, navigation systems and texting are deadly distractions, with text messaging showing a significantly higher level of overall demand than tuning the radio and calling or dialing.
It also seems that an older car is actually safer when it comes to something as simple as changing the radio as researchers found that changing the radio in an older car takes about two seconds, but changing the radio in today's cars can easily take 24 seconds to accomplish through the infotainment system.
Researchers provided advice about what drivers can do to help their chances of staying alive on the roads.
Drivers should never try to program their navigation systems with the cars on the move. Do that job before putting the car into DRIVE or pull over and input the info.
As for texting, don't do it. Even using technology allegedly created to make texting safer, there is nothing safe about any kind of text messaging while driving.
Researchers discussed the study results with automakers, the very companies responsible for installing the complex distracting technology. The message from researchers was simple: "Block the ability to program navigation and send text messages while driving."
As for federal safety regulators (NHTSA), they have taken a hands-off approach to distracting technology other than creating "voluntary guidelines" suggesting automakers block distracting technology unless the vehicle is parked.
Safety advocates know that leaving safety matters voluntary to automakers historically hasn't been a good idea, and researchers say they saw a lot of technology that shows automakers are not following NHTSA's voluntary guidelines.