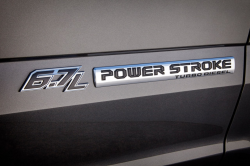 — A Ford 6.7-liter diesel lawsuit alleges the trucks are equipped with emissions "defeat devices" that cheat federal and state nitrogen oxide emissions tests.
The 2011-2018 Ford F-250, F-350 and F-450 trucks are equipped with 6.7-liter Power Stroke diesel engines allegedly intentionally designed by Ford and the Bosch company to fool regulators and truck owners.
The proposed class-action lawsuit says the "clean" diesel trucks are "dirty" and created that way because the trucks can't achieve the fuel economy, power and reliability advertised.
The lawsuit begins by equating the trucks with illegal Volkswagen vehicles equipped with software called defeat devices to fool emissions tests so the vehicles can be certified for sale. According to the Environmental Protection Agency, a defeat device reduces the effectiveness of emissions controls during routine driving.
The plaintiffs claim it's unlikely the alleged Ford emission problems can be repaired by a recall without affecting fuel economy. Additionally, the plaintiffs allege any attempted fix will cause a loss of power and durability, making the trucks worth less than they should be.
Plaintiff Glenn Goodroad, Jr. says he purchased a new 2015 F-250 equipped with a 6.7-liter Power Stroke diesel engine for about $48,100 in September 2015. In addition, the plaintiff says he bought a new 2016 Ford F-350 equipped with a 6.7-liter Power Stroke diesel engine for $60,300 in May 2016.
However, Goodroad says he subsequently traded in the 2015 F-250 for a value of approximately $42,500 in May 2017.
In July 2017, the plaintiff says he brought his 2016 F-350 to a dealer for an engine issue allegedly caused by emissions sensors, a problem that was repaired under warranty. Goodroad says he noticed a loss of power when towing objects, so the truck was taken to a different dealer where technicians inspected the engine and emissions system.
Goodroad was told there was nothing wrong with the truck, so he sued Ford by alleging the truck doesn't comply with emissions standards.
According to the 6.7-liter diesel lawsuit, Ford first offered the Power Stroke engines in 2011 F-250 and F-350 trucks and later added to F-450 models. The plaintiffs claim Ford used diesel engines from Navistar prior to 2011 but new emissions standards forced Ford to create the Power Stroke engine with Bosch.
Allegedly the 6.7-liter engines would meet emissions standards but provide more horsepower and torque than before.
Bosch, the same company tied to the Volkswagen emissions scandal, allegedly worked with Ford to supply the electronic diesel control units that allowed the trucks to cheat emissions tests. According to the lawsuit, affected truck owners paid at least $8,000 more for the Power Stroke diesel engines compared to gasoline versions.
Ford allegedly conspired with Bosch to violate the Racketeer Influenced and Corrupt Organizations (RICO) Act and to defraud consumers by concealing the alleged defeat devices.
The plaintiffs claim they deserve a buyback of their trucks in addition to monetary damages for actions by Ford and Bosch that has occurred from 2009 through 2018.
The Ford 6.7-liter diesel lawsuit was filed in the U.S. District Court for the Northern District of California, Oakland Division - Goodroad Jr., et al., v. Ford Motor Company, et al.
The plaintiffs are represented by Keller Rohrback, Lieff Cabraser, Bailey & Glasser, Robbins Geller, Boies Schiller Flexner, and Baron & Budd.
CarComplaints.com has complaints about Ford F-250, F-350 and Ford F-450 trucks.