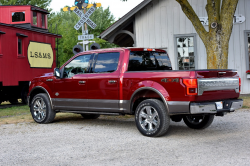 — Ford F-150 master cylinder problems have caused a proposed class-action lawsuit that alleges the trucks suddenly lose their brakes because the Hitachi master cylinders have piston cup seals that allow brake fluid to leak.
The lawsuit includes owners and lessees of 2013-2018 Ford F-150 trucks that allegedly have front brake circuits that can suddenly fail.
According to the plaintiffs, the front brakes are responsible for 75 percent of the truck's braking force and without the front brakes the trucks can fail to stop, or in some cases even slow down.
Drivers of the 2013-2018 Ford F-150 trucks report rolling through stop signs and red lights and watching as their trucks roll into objects because the master cylinders lose their brake fluid.
All 2013-2018 Ford F-150s use master cylinders supplied by Hitachi, with the pistons fitted with just a single cup seal responsible for containing pressurized brake fluid. The lawsuit alleges this is unusual because pistons within master cylinders are usually fitted with two cup seals to ensure that fluid does not leak out of the master cylinders.
The Hitachi master cylinders allegedly place twice the sealing loads on its single piston cup seals. But the plaintiffs also claim the design relocates the usual placement of the cup seal from the piston to the master cylinder's bore where the single cup seal rests in a groove machined into the bore of the master cylinder.
Ford allegedly previously used master cylinders manufactured by Bosch, and complaints with the government and CarComplaints.com shows just a few instances of brake fluid leaking from the master cylinders. All of that changed when complaints jumped up once Ford installed Hitachi master cylinders in the F-150 trucks.
The alleged defect involves failure of the piston cup seals that roll and become unseated in their grooves, losing the seal with the pistons and allowing pressurized brake fluid to escape from the master cylinder and back toward the brake booster.
F-150 owners claim Ford allegedly knew about the dangers but concealed that knowledge from truck owners. According to lawsuit documents, Ford's internal communications show the automaker was completely aware of the defective Hitachi master cylinders.
On June 16, 2015, Jessica Ruiz, an engineer at Ford's Dearborn Truck Plant (DTP), sent an email entitled, "Hitachi Master Cylinders – F150 ECBs and Concerns," and marked "High" importance. She allegedly wrote, "Master Cylinder leaks are getting a lot of attention at Ford."
On July 21, 2015, Ruiz sent an email entitled, "Hitachi – Master Cylinder On Line Leaks at DTP" where she said, "Hitachi (Farmington Hills) found the root cause of the master cylinder leakers we have been finding at DTP. More parts failed on the line this morning and they completed their investigation with those samples."
Then in September 2015, Alejandro Rojas with Hitachi sent an email to colleagues saying, "[W]e have a big brake issue at [Ford's Dearborn Truck Plant]. The issue is a leak in the master cylinder. There are between 20-25 vehicles that have failed."
In July 2016, Ford engineer Martin Kapanowski sent an email to his colleagues where he allegedly wrote, "[I]t has been stated that [master cylinder] repairs are increasing. We are having Hitachi in to discuss."
In September 2016, Dan Williams, an engineer at Ford's Kansas City Assembly Plant, sent an email titled, "Master Cylinder reservoir seal partially not seated." Williams allegedly said, "Are you already aware of what looks like rolled seals on master cylinder assemblies that [Dearborn Truck Plant] found? If that is indeed the defect, this is something we have seen in the past."
In October 2016, Ford engineer Saif Siddiqui sent an email to Hitachi regarding a master cylinder failure in a 2016 F-150. "I think we should start sending the [Master Cylinder] claims in package form instead of sending separately. This is the fourth one from [Dearborn Truck Plant] alone."
Also in October 2016, Mr. Siddiqui emailed his colleague, Jonathan Harris, regarding Hitachi mastery cylinder warranty claims:
"Are all these [master cylinder] claims from today or are you catching up some old ones?" Mr. Harris responded, "No believe it or not they are all from today. I'm about ready to scream I can't believe all of these hit at one time."
Mr. Siddiqui responded, "Amazing. Something definitely got messed up at Hitachi." Mr. Harris responded, "I've asked for someone from the plant to come down for the PIC this is going to be bloody."
In 2016 the National Highway Traffic Safety Administration (NHTSA) opened a preliminary investigation into reports of brake fluid leaking from the master cylinders in 2013-2014 Ford F-150s with 3.5-liter engines.
In May 2016, Ford issued a recall for a loss of the front brakes in 2013-2014 Ford F-150s and cited a risk of a "compromised" primary cup seal and loss of brake fluid "into the brake booster."
But according to the lawsuit, the recall wasn't worth much because it didn't involve all 2013-2014 trucks and didn't include any 2015-2018 F-150s even though they use the same master cylinders.
And the lawsuit alleges the recall remedy was a joke because the defective master cylinders were replaced with the same defective master cylinders.
According to the plaintiffs, Ford has allegedly sold hundreds of thousands of the trucks based on "unfair, deceptive, and fraudulent business practices."
The Ford F-150 master cylinder lawsuit was filed in the U.S. District Court for the Eastern District of Michigan - Weidman et al., v. Ford Motor Company.
The plaintiffs are represented by the Miller Law Firm, P.C., Beasley, Allen, Crow, Methvin, Portis & Miles, P.C., and DiCello Levitt & Casey.
CarComplaints.com has brake complaints about the trucks: