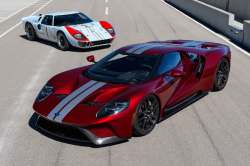 — A Ford GT recall will see about 194 of the $450,000 supercars brought back to dealers to prevent fires, something that has already occurred in Germany.
Ford says no crashes or injuries have been reported, but the one fire was caused by hydraulic fluid that leaked from the valve block assembly. The leaking fluid made contact with hot exhaust parts and caused the fire.
The automaker says about 176 of the 2017-2018 GTs are in the U.S. and 18 are in Canada.
The 2017-2018 GTs were built between December 20, 2016, and July 31, 2018.
The National Highway Traffic Safety Administration hasn't released details, but Ford says its dealers will update the software for the vehicle controllers, something that will allegedly eliminate the possibility of excessive pressure in the valve block assemblies.
Additionally, some GTs will have rear wing hydraulic check valves installed and the o-rings and filters replaced.
If you drive a 2017-2018 Ford GT and have questions about the recall, contact the automaker at 866-436-7332 and refer to recall number 18S29.