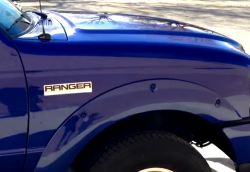 — Ford Ranger trucks equipped with Takata airbags have caused two U.S. senators to demand answers from the Department of Transportation (DOT) and the National Highway Traffic Safety Administration (NHTSA) about the dangers of driving those trucks.
U.S. Senators Richard Blumenthal (D-Conn.) and Edward J. Markey (D-Mass.) say they see potential problems with Ford Ranger trucks, specifically model year 2006 trucks involved in two deaths caused by Takata airbag inflators. And both men say they see definite problems with how safety regulators are handling the situation.
In their letter to the DOT, Blumenthal and Markey ask for details about 2006 Ford Rangers that according to NHTSA, pose an "immediate risk to safety," a risk so great that owners are warned "not to drive" the trucks until the Takata airbags are replaced.
NHTSA issued the warning two years after the first fatality due to an airbag in a Ford Ranger, then again after the second fatality recently confirmed.
Blumenthal and Markey say that although 2004-2006 Ford Rangers have all been recalled for defective Takata airbags, none of the recalls had previously been identified as high-risk, and none of the recalls included "do not drive" instructions.
Additionally, there has been no mention of towing services, mobile repairs or free loaner vehicles to prevent Ranger owners from driving the trucks.
In Ford's latest Ranger Takata airbag recall, the automaker says both deaths were caused by airbag inflators manufactured on the same day, a sign to the senators the inflators may have been manufactured incorrectly.
Blumenthal and Markey say federal safety regulators need to quickly determine the root cause of why Takata airbags in 2006 Ford Rangers pose an increased risk to drivers and if that same risk exists for other Ford models with Takata airbags.
The senators also want information about Mazda B-Series truck that were built by Ford, and both men want Mazda truck owners to receive instructions not to drive the trucks. Furthermore, Mazda should offer truck owners loaner vehicles, towing and mobile repairs to protect the safety of B-Series truck occupants.
Blumenthal and Markey say they want automakers to include the phrase "Do Not Drive" on every recall notice sent to replace high-risk Takata airbags.