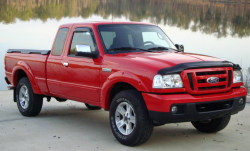 — Another person has been killed by an exploding Takata airbag in a 2006 Ford Ranger, this time in a July 1, 2017, crash that occurred in West Virginia.
The incident convinced Ford to recall about 3,000 model year 2006 Ranger trucks and to warn owners to park the trucks until they are repaired.
This is the second confirmed driver fatality caused by Takata airbag inflators in Ford trucks, and Ford says both deaths occurred in 2006 Ranger trucks with Takata inflators that were built on the same day.
The automaker says it received notification on December 22, 2017, about the July crash that killed 56-year-old Steve Mollohan. Ford inspected the truck on December 27 and confirmed Mr. Mollohan was killed by the driver-side Takata airbag inflator that ruptured.
The ruptured airbag was built without a desiccant, a drying agent used to protect the ammonium nitrate from moisture. Researchers determined a combination of heat, humidity and time can make the ammonium nitrate unstable, turning the metal inflator that holds the chemical into a live grenade.
Replacement parts are available now and Ford says dealers can have the trucks towed to the shops and will provide loaner vehicles until repairs are finished. Whatever you do, park the truck and do not allow anyone to drive it.
Ford says it is taking the matter very seriously and is "saddened by these tragic losses and offers its sincere condolences to the drivers' families."
The other Takata-related death in a 2006 Ford Ranger happened in December 2015 when 52-year-old Joel Knight struck a cow in South Carolina. The initial crash caused the truck to jump off the road and hit a fence. Mr. Knight was wearing his seat belt but died from puncture wounds to his throat caused by the ruptured Takata airbag inflator.
The recalled trucks were built at Ford's Twin Cities assembly plant from August 10 to December 15, 2005. About 2,712 of the recalled trucks are in the U.S. and 190 are in Canada.
Ford recalled 361,000 model year 2004-2006 Ranger trucks less than a month ago, but the recall is to replace passenger frontal Takata airbag inflators.
At least 21 people have been killed worldwide because the Takata inflators exploded, with the vast majority of fatalities occurring in Honda vehicles.