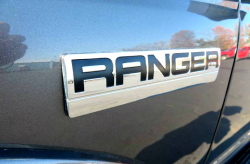 — Ford is recalling more than 361,000 Ranger trucks once again to replace Takata airbags, and this time is supposed to be the last time.
All the 2004-2006 Ranger trucks were recalled in the past to replace Takata airbags, but Ford says this latest recall involves the permanent remedy.
The passenger-side Takata airbags are dangerous because they contain a chemical called ammonium nitrate, meant to create a small quick explosion to deploy the airbags in a crash. But when vehicle occupants started suffering from shrapnel wounds, even in what was considered minor crash incidents, automakers knew they had trouble.
Inside the airbag is the metal inflator, the canister that contains the ammonium nitrate that can turn volatile from age and moisture.
Takata denied the seriousness of the problem until finally the problem that was at first denied caused Takata's bankruptcy, in addition to at least 20 occupant deaths and 200 injuries.
One of those fatalities occurred in a 2006 Ford Ranger when Joel Knight, 52, was driving his truck and hit a cow, sending the truck into a tree. Although Knight was wearing a seat belt, he died of injuries resulting from shards of metal penetrating his neck from the exploding Takata airbag inflator.
The seriousness of the matter was seen just days ago when Honda and the feds announced another driver was killed by an exploding airbag.
Ford says all the Rangers that had their airbags replaced in the past will need to make trips back to dealerships for final airbag inflator replacements. But this time, the replacement inflators aren't made by Takata and don't contain ammonium nitrate.
The Ford Ranger Takata airbag recall will begin December 26, 2017, but the automaker will perform repairs in phases that will last until the end of March 2018.
Ranger owners who have questions should call Ford at 866-436-7332 and refer to recall number 17S42.
CarComplaints.com has complaints about the model year trucks involved in the Takata recall:
Ford Ranger Complaints: 2004 / 2005 / 2006 / All model years