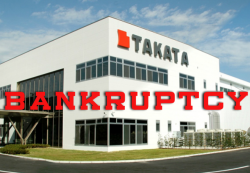 — The expected Takata bankruptcy filing is official as the airbag manufacturer filed for Chapter 11 bankruptcy protection in the U.S. and the equivalent in Japan as a different automotive supplier plans to take over most of Takata's assets.
Under terms of the agreement, Key Safety Systems (KSS), part of Chinese supplier Ningbo Joyson Electronic Corporation, will take over nearly all of Takata's assets, other than certain operations related to the sale and manufacturing of "phase-stabilized ammonium nitrate" (PSAN) airbag inflators.
Those inflators are at the heart of Takata's downfall and the subject of nearly 100 million inflators that will eventually be recalled worldwide. Takata is expected to keep the PASN part of the operation under a reorganized company that will eventually be closed down.
Takata's doom occurred when airbags started exploding, sending sharp pieces of metal into vehicles and occupants. Scientists determined the ammonium nitrate inside the metal airbag inflators was dangerous and unstable when affected by heat, moisture and time. What is meant to be a small explosive force to deploy an airbag in milliseconds turns into a grenade in the face of car occupants.
At least 16 deaths and 180 injuries have been reported worldwide, most in the U.S. and most in Honda vehicles, Takata's largest airbag customer.
Key Safety Systems is a supplier of airbags, seat belts, child seats and other auto safety systems and will reportedly pay nearly $1.59 billion to acquire Takata. KSS says if the deal with Takata is approved, the company will employ about 60,000 people in 23 countries and will continue to support Takata's customers and suppliers.
The agreement specifies KSS will keep Takata's Japanese facilities up and operating, not only keeping jobs in place but with plans to increase the number of employees. Additionally, Japanese media say Takata will ask lenders for support in the form of tens of billions of yen (111 yen = $1.00) to help prevent suppliers from also going bankrupt.
Both Takata and KSS are working on finalizing the agreement and will hopefully complete the task in the coming weeks. In addition, if all goes as planned in the U.S. at bankruptcy court under Chapter 11 bankruptcy code and in Japan under the Civil Rehabilitation Act, the transaction should be completed in the first quarter of 2018.
Attorneys and regulators are likely having visions of General Motors and its bankruptcy agreement concerning the liabilities of "New GM" and "Old GM," a sticking point that is still having repercussions in court. In addition, attorneys for consumers affected by Takata's exploding airbags will be watching the proceedings to learn if money will be available to cover liabilities in court cases.
As for automakers, the U.S. government said in 2016 that if Takata went bankrupt, affected automakers would be required to cover the cost of replacing defective Takata airbags.