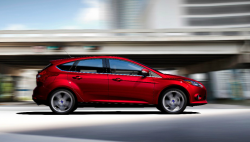 — A Ford transmission lawsuit alleges 2011-2013 Ford Fiestas and 2012-2014 Ford Focus cars are equipped with PowerShift transmissions that make the cars expensive to own.
The plaintiffs claim the transmissions suffer from all kinds of problems.
Slipping
Bucking
Jerking
Sudden acceleration
Delayed downshifts
Premature wear
The lawsuit alleges more problems include delayed acceleration, drivers having difficulties stopping the cars and eventually the transmissions fail.
According to the lawsuit, the PowerShift transmissions are marketed as automatic transmissions that provide the fuel economy of manual transmissions. The systems don't have traditional torque converters and instead use two clutches to engage and disengage the engine and transmission.
Similar "automated manual" transmissions use "wet" clutches bathed in oil, but Ford's PowerShift transmission clutches don't have oil pumps and other components of a wet clutch system.
The lawsuit references a 2010 Ford advertisement that made the transmissions sound better than they are:
"PowerShift with dry-clutch facings and new energy-saving electromechanical actuation for clutches and gear shifts saves weight, improves efficiency, increases smoothness, adds durability and is sealed with low-friction gear lubricant for the life of the vehicle. The transmission requires no regular maintenance."
The Focus and Fiesta transmissions use a program called Torque Hole Filling (THF) which is a combination of computer algorithms and computerized tools to fill the torque hole (hesitation) while driving. Ford allegedly claimed the technology would create a smoother driving experience, but the plaintiffs claim owners say just the opposite.
The plaintiffs also allege the transmissions are a safety hazard due to unintentional conditions that make it difficult to accelerate, decelerate and merge into traffic. More safety issues arrive when the cars lurch forward while driving and surge the RPMs even when the brakes are applied.
According to the lawsuit, the alleged defects cause the clutch plates and other components to experience premature wear that requires very expensive repairs. The plaintiffs claim numerous customer complaints and technical service bulletins admit the automaker long knew about the transmission problems.
The Ford transmission lawsuit was originally filed in the Superior Court of California, County of San Diego, but moved to the California Southern District Court - Cordaro et al., v. Ford Motor Company et al.
The plaintiffs are represented by the Knight Law Group, LLP.