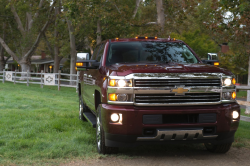 — A GM CP4 lawsuit alleges Chevrolet and GMC Duramax diesel vehicles break down because the Bosch-supplied fuel pumps fall apart when American diesel fuel is used.
The proposed General Motors class-action lawsuit includes all persons or entities in California who are current or former owners and lessees who paid money related to engine or fuel pump repairs of the following diesel vehicles:
2011-2016 Chevrolet Silverado 2500HD (6.6L V8 Duramax LML engine)
2011-2016 Chevrolet Silverado 3500HD (6.6L V8 Duramax LML engine)
2011-2016 GMC Sierra 2500HD (6.6L V8 Duramax LML engine)
2011-2016 GMC Sierra 3500HD (6.6L V8 Duramax Diesel Trucks LML engine)
2010-2011 Chevrolet Express (Duramax LGH engine)
2010-2011 GMC Savana (Duramax LGH engine)
2010-2011 GMC Sierra with RPO ZW9 (chassis cabs or trucks with pickup box delete, Duramax LGH engine)
2011-2012 Chevrolet Silverado 2500HD and 3500 (6.6L V8 Duramax LGH engine)
2011-2012 GMC Sierra 2500HD and 3500 (6.6L V8 Duramax LGH engine)
GM and other automakers allegedly experienced numerous and widespread fuel pump failures in the 1990s when cleaner diesel standards were created, yet GM still used allegedly incompatible CP4 pumps in its vehicles.
According to the lawsuit, the CP4 fuel injection pumps are made for European diesel fuel, but diesel fuel in the U.S. isn't compatible and only destroys the Bosch pumps.
The plaintiffs claim the pumps cannot be lubricated and will eventually run dry as air bubbles allow metal to rub against metal, creating metal shavings throughout the fuel systems.
The result is a failed CP4 pump and a vehicle that must be parked until the pump is replaced. In addition, owners report the metal shavings travel through the engines and cause repair bills up to $20,000.
GM customers have even claimed the pumps failed during the first mile of driving because the diesel fuel destroys the pumps when the tanks are first filled.
According to the plaintiffs, GM owners are still in trouble even if repairs are covered under warranty because the same defective CP4 pumps are used as replacements and are once again ruined by American diesel fuel.
Claiming GM committed a "grand scam" on business customers who own several affected vehicles, the lawsuit alleges businesses buy the diesel vehicles under the impression they will last for 500,000 to 800,000 miles.
In addition, the vehicles are advertised as having more power and giving customers lower fuel bills, marketing claims GM allegedly cannot support when the CP4 fuel pumps constantly disintegrate.
The alleged problem is found in cleaner diesel fuel used in the U.S. compared to other countries. But part of the process of being cleaner includes less lubrication of the pumps, causing them to run dry and allegedly fall apart.
One plaintiff, Christopher Moonan, says he purchased a used 2016 Chevrolet Silverado 2500HD in January 2018 for about $40,000, a truck he still owns.
According to the plaintiff, the CP4 fuel pump failed as he was driving in the desert in 127-degree heat and caused him to suffer from heat stroke that left him with symptoms for three days. The truck was taken to a Chevy dealer and technicians said the CP4 pump had "exploded."
Moonan says he suffers from anxiety because the pump failed and he wouldn't have purchased the truck, or would have paid less for it, if General Motors would have warned him about the Bosch CP4 fuel pumps.
According to the lawsuit, the automaker stopped equipping the vehicles with the CP4 pumps after 2016 model years and switched to Denso HP4 fuel injection pumps.
The GM suit is but one filed over Bosch CP4 fuel pumps, as the same attorneys also filed a proposed class-action against Ford Motor Company. In addition, a separate CP4 class-action was filed in October against Chrysler, Ford and General Motors.
The GM CP4 lawsuit was filed in the U.S. District Court for the Northern District of California - Moonan, et al., v. General Motors LLC.
The plaintiffs are represented by Hagens Berman.