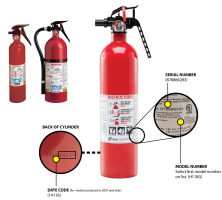 — General Motors is recalling nearly 13,000 trucks and vans equipped with Kidde fire extinguishers that may fail to work when they are needed the most.
The GM recall includes these vehicles if equipped with "Pindicator" fire extinguishers made with plastic handles or push buttons:
2009-2014 Chevrolet Silverado HD
2009-2014 GMC Sierra
2009 GMC Topkick 5000, 6000, 7000 and 8000 Series
2009 Isuzu F Series
2009-2018 Chevrolet Express
2009-2018 GMC Savana
Kidde has recalled tens of millions of the fire extinguishers that were sold by numerous companies and used by certain automakers for their vehicles.
The GM recall is important because the U.S. Consumer Product Safety Commission (CPSC) says it is aware of one death related to the fire extinguishers and the fatality occurred in a vehicle.
According to the CPSC, the 2014 death involved a car fire following a crash, but first responders couldn't get the Kidde fire extinguisher to work, although the agency didn't say which car manufacturer was involved.
Kidde recalled tens of millions of fire extinguishers in 2017, including many that were previously recalled in 2009 and 2015, recalls that now include more than 130 models of extinguishers.
The faulty products are blamed on at least 16 injuries and 91 reports of property damage from about 400 reports of failed or limited activations or nozzle detachments.
General Motors says the extinguishers may become clogged and require a lot of force to use, or they could completely fail to discharge. Additionally, the nozzle may detach from the valve assembly with enough force that a person could be injured.
It's unknown how many automakers will eventually order recalls, but federal safety regulators say about 2.5 million extinguishers have been tracked to cars, trucks, trailers, RVs, etc. Chrysler already recalled about 62,000 vehicles in January 2018 to replace the defective extinguishers.
GM doesn't know when the recall will begin, but owners will eventually be contacted and told to contact Kidde for free replacement fire extinguishers that will contain a metal, rather than plastic, valves.
Concerned GM owners may contact Chevrolet at 800-222-1020, GMC at 800-462-8782 or Isuzu at 866-441-9638.
GM's Kidde fire extinguisher recall number is 18146.