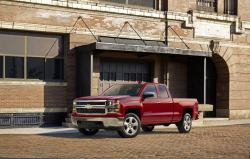 — General Motors is recalling more than 1 million trucks and SUVs that could lose power steering only for it to quickly return.
2015 Chevrolet Silverado 1500
2015 Chevrolet Tahoe
2015 Chevrolet Suburban
2015 GMC Sierra 1500
2015 GMC Yukon
2015 Cadillac Escalade
GM opened an internal investigation in June 2018 based on increasing complaints about vehicles that lost their power steering. Engineers determined all the reports were caused by the same electrical problems that caused a recall of 690,000 trucks in 2017.
In addition to the 2017 recall being ordered for the same problem, the same consequences were seen, namely a loss of power steering.
GM says the loss and quick return of power steering can occur particularly during low-speed turns. According to the automaker, low-speed turns can cause low-voltage conditions and when the voltage drops below 8.8 volts for more than 1 second, the power steering is disabled until voltage returns to 9 volts for a minimum of 40 milliseconds.
If power steering is lost, the vehicle will revert to manual steering and a driver will see a warning message about the power steering assist. GM also says other electrical systems may shut down at the same time or right before the power steering is lost.
Those systems include the radio, stabilitrack, chimes, door-lock cycling, air conditioning and cruise control.
Dealers will update the power steering module software, although GM doesn't know when the recall will begin.
Affected Cadillac customers may call 800-458-8006, Chevrolet owners may call 800-222-1020 and GMC drivers can call 800-462-8782. GM's number for this recall is 18289.