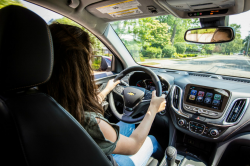 — General Motors has filed a third petition asking the National Highway Traffic Safety Administration (NHTSA) for an exemption from a recall of millions of trucks and SUVs.
Those vehicles include the following:
2007-2011 Chevrolet Silverado 1500
2007-2011 Chevrolet Avalanche
2007-2011 Chevrolet Tahoe
2007-2011 Chevrolet Suburban
2007-2011 GMC Sierra 1500
2007-2011 GMC Yukon
2007-2011 GMC Yukon XL
2007-2011 Cadillac Escalade
2007-2011 Cadillac Escalade EXT
2007-2011 Cadillac Escalade ESV
2009-2011 Chevrolet Silverado 2500 and 3500
2009-2011 GMC Sierra 2500 and 3500
Federal regulators allowed GM to file the first petition about six months past the deadline to do so. Safety regulators then gave the automaker until the end of August 2017 to prove the airbag inflators were safe, but here we are in February 2018 and NHTSA still hasn't made a decision.
General Motors repeats much of its previous reasons why the trucks and SUVs should not be recalled. The automaker claims the airbag inflators were made differently than inflators used in vehicles from other automakers.
The Takata inflators in the GM vehicles are allegedly installed in the instrument panels in ways that protect the ammonium nitrate from moisture. It's that chemical which is the primary cause of inflator explosions that have killed at least 22 people and injured about 200. Combined with the age and design of the inflators, moisture can make the ammonium nitrate unstable to the point the metal inflators explode.
The inflators in the trucks and SUVs don't contain a drying agent called a desiccant, but GM says it doesn't matter. In addition to how the inflators are installed in the vehicles, GM says the window glass used in the vehicles helps to protect the cabins from high temperatures which in turn helps to keep the inflators cooler. In addition, the airbags allegedly have more venting and special propellant wafers unique to GM vehicles.
GM hired a scientific research company called Orbital ATK to test the inflators and in December 2016, the automaker said no Takata airbag inflators had exploded out of 44,000 deployments. In addition, no inflators had ruptured in lab tests of more than 1,000 inflators.
In the newest petition, GM says there have now been nearly 5,000 inflators tested in the lab and none have ruptured. The automaker also says the testing company determined the inflators would work as intended for 30 years.
GM owners who are concerned about their airbags can't do much about it because dealers won't replace the inflators without the automaker ordering a recall.
Earlier reports said if GM recalled all the Takata airbag inflators (6.8 million), the automaker estimated spending about $870 million, but GM's recent statements say the cost could reach $1 billion.
CarComplaints.com has complaints about the trucks and SUVs listed in the Takata airbag recall petition.