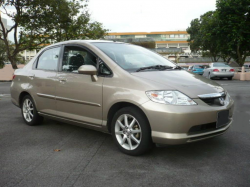 — Honda Malaysia has confirmed another death in a car equipped with a Takata airbag that exploded in a crash that occurred on January 1, 2018. The unnamed 2004 Honda City driver was killed in the state of Selangor in a crash that involved a ruptured driver's side Takata airbag inflator.
The Royal Malaysia Police and Honda inspected the single-stage airbag inflator and confirmed the rupture, but the automaker says no official cause of the death has been established.
Honda says the car was included in a Malaysia recall in 2015 to replace the driver-side Takata airbag inflator, but as in many previous cases, the inflator was allegedly never replaced.
The automaker claims "several" recall notices were sent to the registered owners at the time, but no recall notices were sent to the current owner. Honda blames it on the change of ownership, but in any event, the airbag inflator was never replaced in a car that had been recalled.
Honda says it's not providing any personal information on the driver out of respect for the family.
It's at least the sixth death in Malaysia that occurred in cars equipped with Takata airbag inflators that ruptured. All six crashes were in Honda City cars, including an April 2016 crash that killed Dr. Nida Fatin Binti Mat Asis.
More Honda Malaysia airbag-related deaths occurred in a 2009 Honda City, in the death of a 44-year-old woman driving a 2005 Honda City car and two additional deaths in Honda Citys that occurred on April 16 and the other on May 1, 2016.
In a separate crash in July 2014, 42-year-old Law Suk Leh was eight months pregnant and driving her 2003 Honda City in East Malaysia when she hit another vehicle at an intersection. Although traveling only 20 mph, the exploding airbag killed Leh and her unborn daughter.