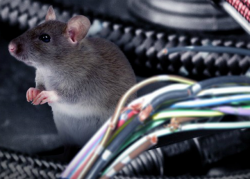 — A Honda wiring lawsuit alleges animals damage vital systems by chewing and eating the wires.
The proposed class-action lawsuit includes all consumers in Illinois who in the past four years purchased or leased new 2013-2017 Honda models manufactured with soy-based wiring and who have paid for repairs to the wiring.
According to the plaintiff, the lawsuit may include tens of thousands of Illinois customers.
The plaintiff says Honda uses the soy wiring because it's allegedly more friendly to the environment, but the trade-off is how mice, rats and other rodents chew the soy-based insulation that covers the wiring. Exposed wiring caused by animals chewing the wires allegedly cause important safety functions to fail.
Michael Preston says he leased a 2015 Honda Accord in June 2015 that came with a 3-year/36,000 mile warranty. The plaintiff says the Accord lost power steering to the extent the plaintiff couldn't drive the car.
Preston says he took the Accord to the dealer and discovered the wiring had been chewed, but the dealership said repairs wouldn't be covered under the warranty even though the car was under warranty.
According to the lawsuit, Honda knows rodents eat the wiring because dealers market and sell a special tape to wrap the wires and sold the tape as a "Genuine Honda Part."
Preston says considering the automaker sells a special tape to prevent damage to the soy-based wiring, Honda should have covered the cost for repairs while the car was covered by the warranty. The plaintiff says dealerships typically tell customers to contact their insurance companies for help with paying the bills.
In addition, the plaintiff says Honda collects a good income by replacing damaged wiring with the same soy-based wiring that will be eaten again.
The Accord allegedly has lost value because of the wiring problems and the plaintiff hasn't had the benefit of driving a reliable car.
Honda allegedly knew years ago about all the systems that could fail once the wiring was damaged by animals, but told dealers the problem wasn't caused by defects or materials used to manufacture the vehicle.
The Honda wiring lawsuit was filed in the U.S. District Court for the Northern District of Illinois - Michael Preston, et al., v. American Honda Motor Company, Inc.
The plaintiff is represented by SmithMarco, P.C., and Bardo Law, P.C.