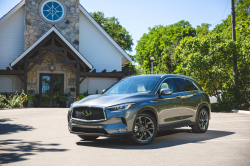 — More than 1,670 model year 2019 Infiniti QX50 SUVs are recalled because the passenger-side knee airbag covers may detach when the airbags deploy in cold temperatures.
Infiniti says the trim covers can separate from the knee airbag modules when they should split at the tear seams of the trim covers.
The supplier, Autoliv, was running tests in cold weather when a passenger-side knee airbag cover detached from the module. Autoliv opened an investigation and all affected modules were quarantined until a cause of the problem was found.
Engineers determined the airbag modules had been made with tear seam thickness levels that didn't meet specifications. In addition, the knee airbag cushions were incorrectly folded.
The 2019 Infiniti QX50 recall is expected to begin October 22, 2018, when dealers will replace the passenger-side knee airbag modules.
Affected QX50 customers with questions should call Infiniti at 800-662-6200.
CarComplaints.com has complaints about the Infiniti QX50 and numerous other Infiniti vehicles.