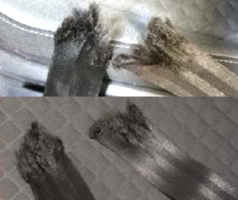 — The 2018 Volkswagen Tiguan driver's side seat belt may not be made as safe as it should be, especially if the SUV hits something while traveling at least 35 mph.
According to the National Highway Traffic Safety Administration (NHTSA), safety inspectors have seen enough evidence to upgrade a January 2018 investigation into the seat belts.
NHTSA opened the original investigation after crash tests caused the webbing of two seat belts to completely rip apart. Both tests were 35 mph frontal impacts with male test dummies belted into the driver seats. Investigators found the webbing had completely separated where the seat belts looped through the latch tongues.
In response to the crash test results, Volkswagen claimed the seat belt webbing separated because part of the test dummy put too much force against the webbing.
To convince NHTSA of this hypothesis, VW conducted its own tests in an effort to show how the two seat belts broke. Specifically, the automaker said the umbilical cord for the test dummy was what caused additional forces on the seat belts.
But NHTSA conducted micro analysis at the National Transportation Safety Board Materials Laboratory and verified the seat belts failed in tension and not due to cuts or abrasion.
Because Volkswagen's internal findings didn't correspond with the government crash test results, NHTSA says it's upgrading the investigation to an engineering analysis to determine the root cause for the seat belt separations.
CarComplaints.com will update our website with results of the 2018 VW Tiguan seat belt investigation.