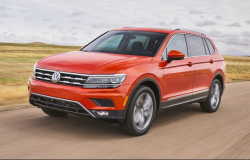 — The National Highway Traffic Safety Administration (NHTSA) has opened an investigation into possible problems with 2018 Volkswagen Tiguan SUVs.
During a crash test conducted on the Tiguan, NHTSA discovered problems with the seat belt webbing that looped through the seat belt latch tongue.
Tests were conducted with a 50th percentile male dummy in the driver-side seat and a 5th percentile female in the passenger-side seat as the Tiguan hit a rigid barrier at 35 mph. Both test dummies were belted in but didn't have the necessary protection when the seat belts separated.
The frontal tests were carried out in December 2017 in Wisconsin and Ohio by independent research facilities.
Since they are new vehicles, only 129 are currently affected by the investigation, but NHTSA says the investigation will determine if the seat belt problems will occur in real-world driving.
No additional information about the investigation is available, but CarComplaints.com will update our website with results of the investigation.
CarComplaints.com has owner-reported complaints about VW Tiguan SUVs and many other models of Volkswagen vehicles.