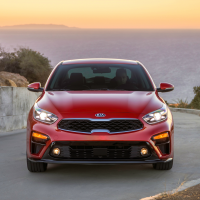 — A 2019 Kia Forte recall has been issued by the automaker because the low-beam LED headlight beams aren't aimed accurately.
More than 1,750 Forte cars have LED headlights the supplier, MOBIS Mexico, didn't aim correctly and that can cause the low-beam lights to deviate to the left. This will cause drivers problems when trying to view the roads at night.
Kia found the problem in July 2018 during a quality check during production when an LED light was found pointed to the left.
The supplier looked into the problem and determined the master headlight that was used to produce all other headlights had been inaccurately adjusted.
Kia monitored the field and found no complaints but did find LED headlight problems on vehicles stocked at ports. In addition to no customer complaints, Kia says it hasn't received any reports of crashes or injuries related to the wrongly-aimed headlights.
Kia dealers will replace the headlights if the low beams are out of whack once the recall begins November 30, 2018.
Concerned 2019 Kia Forte drivers may call 800-333-4542 and use recall reference number SC171.
CarComplaints.com has complaints about Kia Forte cars and many other Kia models.