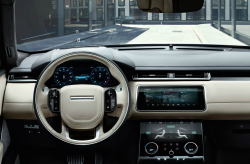 — Land Rover is recalling nearly 7,100 model year 2018 Range Rover Velar SUVs because the windows could fog and stay that way.
Land Rover blames the problem on air inlet door linkages that can detach in the ventilation systems and prevent the clearing of fog or condensation.
Land Rover learned from dealers about drivers that couldn't remove the fog and condensation using the heating and cooling systems. Engineers determined the hard stops used to control the inlet door movements were not to the original specification, allowing the doors to move too far.
The automaker was told by the supplier the stops used for the air inlet doors had been moved from the actuators to the casing for the heating and cooling systems. Land Rover says it never requested the change and the supplier failed to let the automaker know about the changes.
Fogged windows make driving difficult, but the automaker says there have been no crash or injury reports. To make sure things stay this way, dealers will need the SUVs back for a while.
Land Rover dealers will update the software that controls the length of movements of the ventilation actuator arms.
The recall is expected to begin April 23, 2018, but owners with questions about the 2018 Range Rover Velar recall should call 800-637-6837 and ask about number N143.