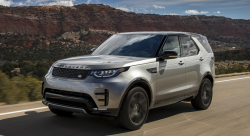 — Land Rover is recalling more than 1,900 model year 2017 Land Rover Range Rover, Range Rover Sport and Discovery vehicles with engines that can stall.
The fuel gauge may incorrectly indicate low fuel levels and the warning light will be illuminated even though plenty of gas is still in the tank.
Land Rover says the engine management software uses the fuel level data to predict range and the engine will cut out as a protective measure against damage to the high-pressure fuel pump.
A driver will be able to restart the engine but it will run for only about a minute, then the engine will shut down again. With the engine cut off the brake vacuum reservoir will be depleted and the vehicle will lose its power brakes, however "foundation brakes" remain.
Additionally, all electrical functions will continue to operate as normal.
The automaker learned of the problem in April when dealers were saying customers were complaining about the fuel gauge problems and engines that shut down.
To fix the stalling engines, Land Rover dealers will need to install a software update to correct the inaccurate fuel levels. The recall should begin July 16, 2018.
Range Rover, Range Rover Sport and Discovery owners may call the automaker at 800-637-6837. Land Rover's number for this recall is N206.