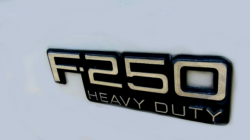 — Ford is defending itself against a lawsuit that alleges the weak structure of an F-250 roof caused the deaths of two Georgia farmers.
Melvin Hill, 74, and his wife Voncille Hill, 62, were killed in 2014 when their 2002 Ford Super Duty F-250 Crew Cab crossed over the road and overturned onto its roof due to a blown tire.
The lawsuit was brought by Kim and Adam Hill, children of the couple who accuse Ford of manufacturing the F-250 roof too weak to protect their parents in the crash. According to the lawsuit, an incorrectly installed tire caused the loss of control and crash, but it was the collapsed F-250 roof that killed the couple.
The Hill children have already settled with Pep Boys for selling and installing a tire that had the incorrect gauge for the F-250, in addition to reaching an agreement with the manufacturer of the tire, Cooper Tire Company. But the plaintiffs claim Ford knew for years the F-250 roofs were too weak and could totally collapse in rollover crashes.
The lawsuit alleges Ford advertised the F-250 as "Super Duty" and "Ford Tough" even though the automaker didn't use enough metal in the roofs to properly protect occupants in a rollover crash.
According to the lawsuit, Ford allegedly never allowed its engineers to do their job to make the roof strong enough to protect occupants in rollover crashes but instead chose to let executives call the shots by refusing a design that would have strengthened the roof.
The plaintiffs also claim Ford never physically tested the roof but instead used computerized tests to analyze the strength of the roof. In addition, the lawsuit alleges even the computerized analysis showed the roof didn't meet minimal safety standards set by Ford.
Attorneys for the plaintiffs claim Ford changed the design of 1999-2007 F-250 roofs to save money while knowing the change weakened the roofs to dangerous levels. However, Ford counters the F-250 roof went through five years of design and planning and met computer tests set by engineers.
Ford further argues occupants suffer injuries and deaths in rollover crashes because people are typically propelled toward the roofs.
However, the plaintiffs say the director of the funeral home said Mr. and Mrs. Hill both suffered from injuries to the backs of their heads and both had broken necks. The plaintiffs claim this shows the collapsed roof killed the couple.
Ford says the case can easily be explained by the wrong tire installed on the truck, and no vehicle can protect from all injuries and no roof exists that is completely crush-proof.
The case, Hill v. Ford Motor Company, is being heard in the State Court of Georgia, Gwinnett County.
The plaintiffs are represented by Butler Wooten & Peak.