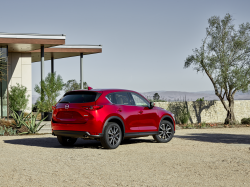 — Mazda is recalling its 2018 CX-5 SUVs because the side curtain airbags may fail in a rollover crash.
The 682 recalled CX-5s have airbags that weren't manufactured correctly, a problem that can cause the side curtain airbags to unfold properly in a crash.
The automaker didn't say what caused the problem, but no reports of crashes or injures have been received.
Mazda said nothing more about the recall, including when it will begin, and the National Highway Traffic Safety Administration hasn't published details.
CarComplaints.com will update this page when more is known, but for now, check out complaints from owners of the 2018 Mazda CX-5 and what owners say about other model year CX-5 SUVs.