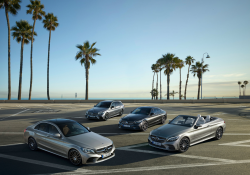 — Mercedes-Benz is recalling nearly 11,000 C-Class vehicles because the aluminum beltline trim pieces might separate from the vehicles and cause trouble for any vehicles on the roads.
2017-2018 Mercedes C300 Cabriolet
2017-2018 Mercedes C300 4Matic Cabriolet
2017-2018 Mercedes C43 AMG Cabriolet
2017-2018 Mercedes C63S AMG Cabriolet
2017-2018 Mercedes C63 AMG Cabriolet
Mercedes opened an investigation in October 2017 when plant workers discovered bonding problems on the rear beltline trim of a car. Specifically, the aluminum profile of the beltline trim was partial delaminated from the base, so the automaker worked with the supplier to determine the root cause.
Engineers found improper bonding between the base part and the aluminum profile of the rear beltline trim was faulty because of a lack of primer.
Mercedes continued to investigate with the supplier to determine the long-term consequences of the lack of primer and if the partial delamination could finally cause the trim to separate. The recall was ordered when engineers said they couldn't guarantee the beltline trim wouldn't fly off the cars.
The Mercedes recall should begin September 9, 2018. Dealers will replace the rear beltline trim, but affected customers with questions may call the automaker at 800-367-6372.
In a separate recall for a separate problem, Mercedes is recalling 20 model year 2017 G65 AMG vehicles that have incorrect reverse speed limitation software. The defect will cause a vehicle to become unstable if steering changes are made while going more than 16 mph in reverse.
Dealers will update the engine control unit software when the recall begins July 27, 2018.
Mercedes-Benz G65 AMG owners may call 800-367-6372.