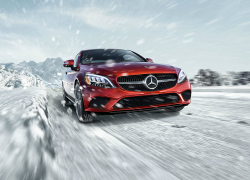 — Mercedes-Benz is recalling C300 and E300 cars to repair problems related to the covers for the batteries.
Recalled are more than 4,000 model year 2018 Mercedes-Benz C300 4Matic Coupes, C300 4Matic Cabrios, E300s, E300 4Matics, C300s, C300 4Matics, C300 Coupes and C300 Cabrios.
The covers for the starter batteries may not protect the live positive electrical wires, leaving the wires exposed to make contact with the strut braces in a crash.
Contact with deformed strut braces can cause short circuits from the batteries and disable the emergency door unlocking features.
This would leave first responders without the ability to open the doors from the outside. In addition, Mercedes says the hazard warning lights may fail to activate and a short-circuit could easily lead to a fire.
Mercedes opened an investigation in September 2017 after a production plant said the wrong positive pole covers were used for the starter batteries. The automaker learned a design change was previously made and an error in the documentation caused covers to be installed that were too small.
But Mercedes says the covers are just part of the problem because the real damage comes from the study of crashes when the automaker learned a crash could cause deformation of the brace struts. It's those struts that can come into contact with the exposed electrical cables that should have been protected by the covers.
The Mercedes-Benz C300 and E300 recall is expected to begin November 23, 2018, when dealers will replace the positive battery pole covers.
In a separate recall, two model year 2018 Mercedes-Benz AMG GT Cabrio and AMG GT-C Cabrio vehicles are recalled due to software problems that could cause the airbags to fail to deploy correctly in a crash.
The automaker blames the issue on incompatible software that can cause both stages of the frontal airbags to deploy in a low-speed crash, possibly causing injuries to occupants.
The recall should begin November 2, 2018, so Mercedes dealers can update the airbag control unit software on the two vehicles.
Owners with concerns should call the automaker at 800-367-6372.