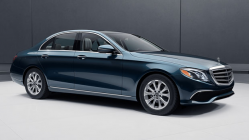 — Mercedes-Benz has headlight problems, at least with 42 vehicles that are recalled because customers can readjust the headlights.
The 2017 Mercedes-Benz E300 4Matic, E300, E43 AMG and E400 have horizontal headlight adjustment screws that may not be sealed behind sealing caps that can't be removed.
The cap is required by federal law to ensure a customer can't change the adjustments made by Mercedes or its dealers.
The recall is expected to begin in June 2018 when Mercedes dealers will make sure the sealing caps will prevent customers from adjusting the headlights.
Affected owners with questions should call Mercedes-Benz at 800-367-6372.