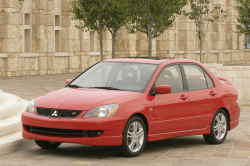 — Mitsubishi is recalling more than 17,000 Lancer cars to replace Takata airbag inflators that have been replaced previously in a 2017 recall.
The 2004-2006 Lancers involved in the 2017 recall will need to be brought back to dealers again to replace passenger airbag inflators at risk of exploding.
Also recalled are 2004-2006 Lancers located in Guam and Saipan that previously received or never received new passenger inflators in previous recalls.
The Mitsubishi Lancer recall should begin April 26, 2018. Affected owners with questions should call the automaker at 888-648-7820 and ask about recall number SR-18-005.
CarComplaints.com has complaints about the cars named in the Takata airbag inflator recall:
Mitsubishi Lancer - 2004 / 2005 / 2006 / All model years