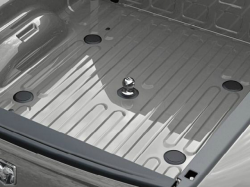 — Mopar gooseneck ball kits have been recalled because of a dangerous situation where the gooseneck balls may detach from the truck mounting hardware.
Chrysler (FCA US) says more than 57,400 gooseneck ball kits are included in the recall, with part numbers 82213631 and 82213632. The automaker says the Mopar retention balls do not fully seat into the receiver plates and won't lock into position.
Chrysler opened an investigation into the Mopar ball kits as a result of two lawsuits that alleged the gooseneck balls detached from the trucks while driving. FCA searched for additional incidents and found three customer complaints about the kits.
Engineers evaluated the returned ball kits and discovered the pins that hold the plungers in place could fall out of the gooseneck balls and prevent the retention balls from fully engaging. The plungers should lock the retention balls in position, but that won't happen if the pins fall out.
Chrysler also says a driver could be fooled by thinking everything is secure just because it looks secure, when in fact the shuttle can be moved to the locked position indicating the gooseneck ball is locked in place when it isn't.
This is caused by the retention balls being held out of position if not completely engaged in the grooves of the mounting hardware.
Engineers determined dirt and debris on the ball mounting surface contributed to the problem, as well as possible problems with the retention hardware.
Chrysler says safety devices such as chains are required by federal safety standards and should prevent the gooseneck hitch from completely detaching from the vehicle.
However, a driver will be in for a surprise if the gooseneck ball detaches from the truck mounting hardware when pulling a trailer because the gooseneck trailer hitch will move around. This could easily cause a driver to lose control of the vehicle and trailer.
The automaker says it has received 63 warranty claims and two reports from the field, but no reports of crashes or injuries caused by the defective Mopar gooseneck ball kits.
FCA is still trying to determine the best way to fix the ball kits, but for now the recall is scheduled to begin June 20, 2018.
If you own a Mopar gooseneck ball kit with part number 82213631 or 82213632, feel free to call 800-853-1403. Chrysler's recall number is U40.