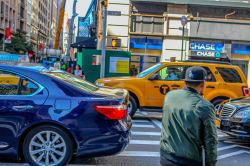 — Pedestrian deaths aren't decreasing even in an age of sophisticated safety features on automobiles, according to the latest statistics from the Governors Highway Safety Association (GHSA).
Research indicates pedestrians account for about 16 percent of all vehicle deaths, compared with 11 percent a few years ago.
The government defines a pedestrian as any person on foot, walking, running, jogging, hiking, sitting or lying down who is involved in a vehicle incident.
Based on current data, the GHSA estimates the number of pedestrians killed in 2017 will total 5,984, only three deaths short of the 5,987 killed in 2016. Compare those numbers to stats from 2009 when 4,109 pedestrian deaths were recorded.
Researchers say two recent trends correlate with the increase in pedestrian deaths, and although correlation doesn't imply causation, the increased use of smartphones and weed will be looked at in a search for answers.
The GHSA admits the latest study doesn't find a definitive link between pedestrian fatalities and legalization of recreational marijuana or the use of phones, but researchers note there has been a 236 percent increase in smartphone use from 2010 to 2016.
Additionally, the seven states and D.C. that legalized recreational marijuana from 2012 to 2016 experienced a 16.4 percent increase in pedestrian fatalities for the first half of 2017, while all other states saw a combined 5.8 percent decrease.
As researchers look at ways to decrease pedestrian deaths, one city created new regulations for 2018 for just that purpose.
Montclair, California, made it illegal to cross the street if talking on a phone, while viewing any mobile electronic device or if both ears are covered by personal audio equipment. Montclair leaders say the new regulations will hopefully cut down on distracted pedestrian incidents.
The new regulations define "viewing" as looking in the direction of the screen of a mobile electronic device, and a pedestrian is "a person who is on foot or who is using a skateboard, roller skates, wheelchairs, or any other propelled means of transport that is not a bicycle."
Also included are people using electric wheelchairs or scooters, but there are exceptions to the law. Making 911 calls or emergency first responders using mobile devices will still be able to use the devices without getting into trouble.
City leaders further say that people shouldn't believe they will simply get off with a warning for a first offense because the first violation will cost $100 and a second violation could be up to $200.