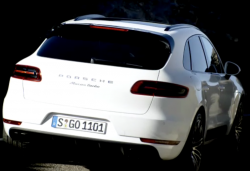 — Porsche is recalling 142 vehicles equipped with optional ski bags because the fastening straps may have been manufactured with the wrong thread.
2017 Porsche Cayenne Turbo S
2017 Porsche Cayenne Turbo
2017 Porsche Cayenne Plug-in Hybrid
2017 Porsche Cayenne GTS
2017 Porsche Cayenne Plug-in Hybrid Platinum Edition
2017 Porsche Macan Turbo
2017 Porsche Macan GTS
2017-2018 Porsche Cayenne S
2017-2018 Porsche Macan
2017-2018 Porsche Cayenne Platinum Edition
2017-2018 Porsche Macan S
2018 Porsche Cayenne
The wrong thread can cause the seams of the strap to tear and leave the ski bag unsecured in a crash.
The Porsche recall is expected to begin January 27, 2019, when dealers will replace the ski bags.
Customers may contact the automaker at 800-767-7243 and refer to recall number AJ12.