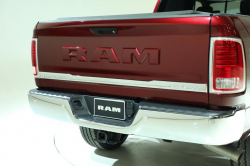 — A Ram power tailgate lock recall will require Chrysler to repair more than 1.4 million Ram 1500, 2500 and 3500 trucks.
The power locking tailgates are found in model year 2015-2017 Ram trucks with 5-foot 7-inch beds or 6-foot 4-inch beds.
Fiat Chrysler (FCA US) says the tailgate actuator limiter tabs can break and cause the tailgates to unlatch and open while driving. Similar 2015-2017 Ram 1500, 2500 and 3500 trucks with 8-foot beds are not included in the recall.
In addition to the nearly 1.15 million recalled trucks in the U.S., another 260,000 are recalled in Canada, more than 19,400 trucks are recalled in Mexico and another 25,361 outside North America.
As of July 13, FCA has received 163 U.S. "customer assistance inquiry records" (CAIRs), 31 "vehicle owner's questionnaires" (VOQs) and one field report about the power tailgate locks. In addition, Chrysler has received more than 5,600 warranty claims and repair orders related to the locks and latches.
The automaker says it doesn't know of any crashes or injuries related to the tailgates.
Chrysler dealers will upgrade the tailgate locking mechanisms to limit the travel of the tailgate locking actuators and block the pivot arms from traveling too far. This will allegedly stop any pulling on the locking and unlocking rods.
The power tailgate lock recall is expected to begin September 14, 2018.
Ram 1500, 2500 and 3500 truck owners with questions should call Chrysler at 800-853-1403 and ask for information about recall number U74.