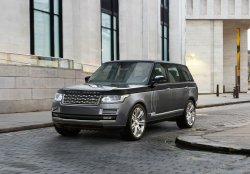 — Reports of Land Rover Range Rover doors latch problems have caused a recall in 2015, an investigation in 2017 and now an upgraded investigation into the 2015 recall.
The National Highway Traffic Safety Administration (NHTSA) says more than 65,300 model year 2013-2016 Range Rover and 2014-2016 Range Rover Sport SUVs have doors that may open while driving because of latch problems.
In addition to doors opening inadvertently, customers complain about doors failing to latch in the first place.
In 2015, Land Rover said the Range Rovers were equipped with "Unilatch Keyless Vehicle" entry systems controlled by keyless modules. What causes the doors to inadvertently open is alleged problems in the control logic for the keyless system release motors that block the release levers from returning to their "home" positions.
Customers report seeing no problems as the strikers and latches appear to be properly connected. However, looks are deceiving because those doors may not be latched at all, allowing the doors to open while driving.
NHTSA says the upgraded investigation is needed because Range Rover owners continue to complain about the door latches even after the vehicles were allegedly repaired. Other owners report their doors opened while driving, but their SUVs were never repaired because Land Rover didn't include all the affected vehicles in the 2015 recall.
NHTSA has received five unique reports alleging incidents of doors opening with the SUVs in motion, then repaired by replacing the latch assemblies. One Range Rover customer was allegedly injured by a door that inadvertently opened.
In response to NHTSA's original investigation of the 2015 recall, Land Rover discovered 43 additional complaints related to faulty door latches, with 14 of those reports alleging doors opened while driving.
Then there are the warranty claims NHTSA learned about from Land Rover. Data shows 564 claims that caused vehicles to have the latches replaced due to customer complaints. Additionally, more than 70 complaints were made about doors opening while the SUVs were moving.
Safety regulators say the preliminary investigation is now upgraded to an engineering analysis to determine if the 2015 Land Rover Range Rover and Range Rover Sport recall did its job.
CarComplaints.com has complaints about Land Rover vehicles.