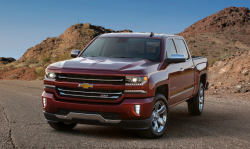 — General Motors is recalling more than 23,000 model year 2015-2016 Chevrolet Silverado 1500, 2500, 3500, Tahoe Police Pursuit and special service vehicles.
GM says the pretensioner cable that connects the driver-side seat belt to the outboard side of the seat may separate and fail to restrain the driver in a crash.
GM had been monitoring the field for signs of pretensioner cables wearing down in 2014-2016 trucks and SUVs and monitoring warranty data, leading the automaker to open an internal investigation. GM noticed an increase in complaints about seat belt pretensioner cables that fatigued and separated.
Engineers analyzed vehicles owned by GM employees but found no pretensioner cable issues, so the next step was to look for complaint trends involving the cables. GM learned there was a "relatively high rate" of problems reported about police and special-service vehicles.
The automaker says a driver can move the seat belt pretensioner cable forward of the seat back bolster which allows the driver to sit on top of the pretensioner and cable guide in a sliding motion while entering the vehicle. This may bend the cable at a severe angle over the seat side-shield and cause the cable to fatigue and separate.
The only warning a driver will have is seeing wear on the sleeve that protects the cable.
The new pretensioner cables and shield that will be added to the vehicles will move the pretensioners rearward and out of the path of occupants entering the vehicles.
General Motors doesn't know when the recall will begin, but owners with questions should call 800-222-1020 and refer to recall number 18156.
CarComplaints.com has complaints from owners of the Chevy Tahoe, Chevrolet Silverado 1500, Silverado 2500 and Chevy Silverado 3500.