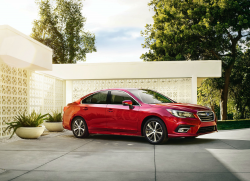 — A Subaru Legacy and Outback recall has been announced after drivers reported running out of fuel even though the vehicles indicated plenty of gas was available.
Nearly 229,000 model year 2018 Legacys and Outbacks could fool drivers because the low fuel warning lights may not illuminate when the vehicles are almost out of gas. In addition, the driving range indicators may display faulty distance-to-empty numbers.
This is exactly what occurred to a Subaru driver who complained to the government.
The 2018 Subaru Outback owner told the National Highway Traffic Safety Administration about the vehicle shutting down as his wife was driving 50 mph. The Outback was towed to a dealership where technicians found the vehicle was out of gas. However, technicians also said the fuel gauge indicated the vehicle could travel another 20 miles before running out of fuel.
According to the Outback driver, the Subaru dealer said the automaker knew about the problem and was working on a remedy.
Subaru first learned of possible problems in December 2017 when the automaker received a technical report about a faulty driving range indicator. The distance-to-empty indicator showed gas in the tank when there was none, causing Subaru to collect the affected parts for testing.
The supplier investigated the problems and determined software errors caused the faulty fuel readings that caused the vehicle to stall without warning.
Subaru doesn't know when the Legacy and Outback recall will begin, but dealers say they can fix the problems by reprogramming the combination meter software.
Owners of 2018 Subaru Legacy and Outback vehicles may contact the automaker at 844-373-6614 and use reference number WTW-82.
CarComplaints.com has complaints about the 2018 Subaru Outback and other Outback model years, as well as complaints about 2018 Subaru Legacys and other Legacy model years.