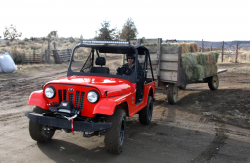 — The Mahindra ROXOR uses a grille similar to a Jeep because Fiat allegedly approved the grille for use on Mahindra vehicles in 2009. That is the latest word from Mahindra & Mahindra, the company accused by Fiat Chrysler (FCA) of stealing numerous design aspects of Jeep vehicles.
FCA filed a complaint against Mahindra with the International Trade Commission (ITC) claiming Mahindra is importing a "utility vehicle" that looks very similar to a Jeep CJ. FCA says Mahindra is violating trademark and design laws by selling off-road utility vehicles that look nothing like typical utility vehicles in the U.S.
This, alleges FCA, causes confusion for consumers who can't tell the difference between a road-ready Jeep and a "utility" ROXOR.
In its complaint to the Trade Commission, FCA claims the Jeep has a unique trademarked design that Mahindra copied for its ROXOR, especially with the grille, headlights and body structure.
In federal documents, FCA says media outlets have referred to the similarities between the Jeep CJ and the ROXOR concerning the boxy body and front grille with its long vertical slots.
Chrysler does says it gave Mahindra certain rights starting in the 1940s to manufacture and sell Jeep-branded products for India customers, but FCA says Mahindra was never granted ownership rights for those products.
Mahindra claims it has done nothing wrong because Fiat agreed in 2009 to never cause Mahindra problems as long as it used a grille approved by Fiat. The ROXOR allegedly uses a grille Fiat signed off on in 2009 and the actions against Mahindra are allegedly "without merit."
Following FCA's filing with the ITC, Mahindra filed a complaint in a Michigan federal court asking for an injunction against FCA based on the alleged 2009 agreement. Additionally, Mahindra filed a response with the ITC claiming it is in the public interest to rule against FCA in the matter.
Mahindra also claims that contrary to FCA's position, the ROXOR is only meant for off-road use and not to compete against the Jeep or any other FCA vehicle. The ROXOR is built at Mahindra's factory in Michigan and is allegedly far from the imported low-quality "knock-off" kit FCA talks about in its complaint to the ITC.
According to Mahindra, FCA's actions are being used to damage the Indian company's reputation and cause harm by creating bad publicity about the ROXOR.