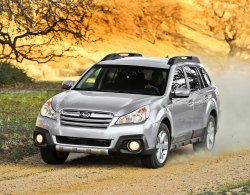 — Subaru is recalling more than 27,000 model year 2010-2014 Subaru Legacy and Outback vehicles equipped with manual transmissions.
The automaker says the electronic parking brakes may not engage, something that could allow the vehicles to roll away.
Subaru found a capacitor on the circuit board and/or the actuator stroke sensor magnetic ring located in the control unit of electronic parking brake may crack over time.
A driver should know if the problem occurs by seeing an illuminated warning light.
The supplier, Continental Automotive, found problems during manufacturing, so the capacitor's material was changed to be more durable and the manufacturing of the circuit board and actuator stroke sensor magnetic ring was improved.
The supplier also kept a closer eye on the moisture content of the resin hub during assembly.
The Legacy and Outback recall should begin November 7, 2018, when Subaru dealers will begin replacing the electronic parking brake actuator assemblies.
Owners of the recalled vehicles may contact Subaru at 844-373-6614 and refer to recall number WTV-81.