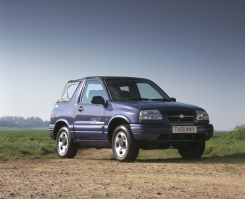 — Suzuki is recalling more than 1,100 model year 2006 Grand Vitara SUVs because they could lose power steering due to defective power steering pump belt adjuster pulleys.
Suzuki had issued a recall in 2010 to replace the power steering pump drive belt tension adjuster pulleys in the SUVs, but in October 2017 the automaker had received seven reports concerning damaged adjuster pulleys.
The automaker collected the damaged parts and confirmed the outer portions of the pulleys were made of plastic and all the SUVs hadn't been recalled in 2010 based on the vehicle identification numbers.
Suzuki finally determined there had been issues with the part ordering numbers and the only way to fix the problems was to expand the recall to include SUVs produced until June 16, 2006.
The tension adjuster pulley for the drive belt that operates the power steering pump and air conditioner compressor has an outer portion that is made of plastic. The automaker found repeated heat stress events can cause the plastic material to deteriorate and pieces of the pulley can break off.
In the worst case scenario, broken pieces of the pulley can get caught between the pulley and the drive belt and cause the drive belt to come off. This will cause a driver to use a lot more effort to steer the Grand Vitara due to the loss of power steering.
Suzuki says the Grand Vitata recall should begin October 26, 2018.
Dealers will replace the power steering pump drive belt tension adjuster pulleys, but customers with questions should call 800-934-0934.
Suzuki's number for this recall is 4009.
CarComplaints.com has complaints about the 2006 Suzuki Grand Vitara and other model years of the SUV.