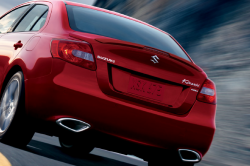 — Suzuki Kizashi and SX4 vehicles have problems with their continuously variable transmission (CVT) control modules, causing a recall of nearly 5,800 of the vehicles.
The automaker told federal safety regulators the modules in model year 2013 Kizashi and SX4 models can fail and cause a sudden reduction in speed and acceleration.
The automaker says it received 13 warranty claims in 2016 and 2017 about CVT problems, so Suzuki engineers and the supplier decided to look into the matter after drivers reported illuminated warning lights and reduced speed.
The CVT modules, manufactured by Jatco, have resistors soldered to lead frames that are mounted on internal boards, except in the recalled vehicles there are areas that were left unsoldered.
Suzuki says stress cracks caused by heat can start in the unsoldered areas and cause electrical issues. This can cause the solenoids that control hydraulic pressure of the transmission fluid to increase in pressure, causing a rise in transmission fluid temperatires.
Once beyond a certain point, the CVT will operate under temperature protection control and send down the vehicle speed and acceleration.
Suzuki blames the CVT problem on the manufacturer that stored components that were exposed to humidity, causing formation of an oxide film containing moisture. Formation of this film on the lead frames in soldering locations caused the resistors to have unsoldered areas.
The Suzuki Kizashi and SX4 recall will begin in June 2018, when dealers will replace the transmission control modules.
Owners with concerns may contact Suzuki at 800-934-0934.
Read complaints owners made to CarComplaints.com about the Suzuki Kizashi and Suzuki SX4.