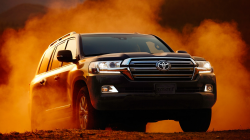 — A Toyota Land Cruiser and Lexus LX 570 recall is needed for nearly 90,000 SUVs because multiple problems can affect the airbag and seat belt systems.
According to Toyota, the 2008-2019 Land Cruisers and 2008-2019 LX 570s have front passenger occupant classification systems with seat belt tension sensors that can fail over time.
Failure of the seat belt tension sensor wire harnesses will cause the airbag warning lights and passenger airbag "OFF" lights to illuminate.
While those things are problems, more serious trouble arises when the knee airbags, front passenger airbags and passenger seat-mounted side airbags deactivate.
More bad news? Toyota hasn't developed a fix for the problems, so interim recall letters will be mailed February 11, 2019. Land Cruiser and LX 570 owners will receive second recall notices once remedy parts are available. However, the automaker doesn't know when that will be.
Concerned owners with questions should call Toyota at 888-270-9371 or Lexus at 800-255-3987.
The Lexus interim recall number is J2L and the final recall number is JLL. Toyota's interim reference number is J15 and the final number is J05.
Read complaints from drivers of Toyota Land Cruiser and Lexus LX 570 SUVs.