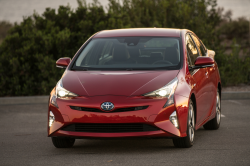 — A Toyota Prius recall has been issued for about 1 million model year 2016-2018 cars worldwide, with about 192,000 of the cars in the U.S.
The Prius recall will fix problems with engine wire harnesses that connect to the hybrid vehicle power control units.
Also included in the recall are Toyota C-HR hybrids, but only C-HR vehicles located outside the U.S. are affected.
Toyota says the Prius cars contain a portion of wire harnesses that could make contact with the cover of the power control units and wear over time.
This can result in an electrical short-circuit that will cause heat, and with enough heat a fire could occur.
The Prius recall will see Toyota dealers check the engine wire harness assemblies and replace the assemblies if the wire core is exposed. The replacement engine wire harness assemblies include new protective sleeves to protect the wires from wearing down.
However, Toyota technicians will only apply protective tape to the wire harnesses if the wires are not exposed.
Affected Toyota Prius owners should watch for recall notices by the end of September 2018.
With questions or concerns, Prius owners should call Toyota at 800-331-4331. Toyota's number for this recall is J0T.
Read complaints from drivers of Prius cars: