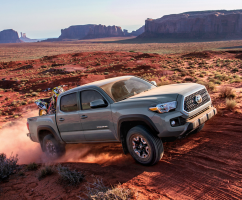 — A Toyota Tacoma recall has been issued to replace the brake master cylinders that have seals that may leak brake fluid internally.
About 44,000 model year 2018-2019 Tacoma master cylinder seals are defective due to manufacturing problems with the supplier.
Toyota says drivers will likely notice a change in the way the brake pedals feel and braking performance will suddenly diminish.
The Tacoma master cylinder recall is expected to begin January 21, 2019, when dealers will start replacing the defective parts with master cylinders that contain upgraded seals.
Owners may contact Toyota customer service at 888-270-9371 and use recall reference number J16/J06.
If you own a 2018-2019 Toyota Tacoma truck and have concerns, call the automaker at 800-331-4331.