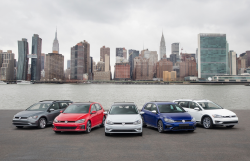 — Volkswagen is recalling 169 vehicles because the rear seat frame head restraint guide sleeves may not be welded correctly to the seat frames.
Recalled are 2018 Volkswagen e-Golf, Golf R, Audi A3 Sedan and RS3 vehicles that need the rear seat frames replaced.
The recall is expected to begin January 11, 2019. Volkswagen e-Golf and Golf R customers may call 800-893-5298, and Audi A3 and RS3 customers with questions should call 800-253-2834.
VW's recall number is 72H8 and 72H9 is the recall number for Audi.
CarComplaints.com has complaints about the VW e-Golf, Golf R, Audi A3 and other Audi vehicles.