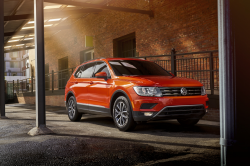 — Volkswagen is recalling more than 73,500 Atlas, Tiguan and Jetta vehicles because drivers may not receive warnings if they leave the keys in the ignitions when opening the doors. That little mistake is a violation of a federal safety standard, specifically number 114 concerning theft protection.
Recalled are 2018-2019 Volkswagen Atlas and Tiguan and 2019 Volkswagen Jetta vehicles that do not have keyless entry.
The National Highway Traffic Safety Administration (NHTSA) contacted Volkswagen in October about a problem with a 2019 VW Jetta. The automaker opened an internal investigation to check which factory was involved and what caused the problem.
VW determined a data container wasn't coded correctly, something that will cause a failure of the instrument cluster to provide an audible warning when the driver opens the door with the key still in the ignition.
VW says it can fix the problem by correcting the coding within the body control module so the correct data container has the key warning enabled. However, dealers say no new parts are required.
The recall is scheduled to begin January 18, 2019.
If you own a Volkswagen Atlas, Tiguan or Jetta and need more information, call the automaker at 800-893-5298. Volkswagen's numbers for the recall are 90L3 and 90L4.
CarComplaints.com has complaints about the Volkswagen Atlas, VW Tiguan and Volkswagen Jetta.