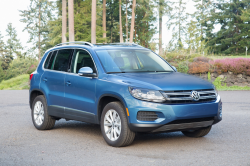 — Volkswagen is recalling more than 45,550 of its 2018 Volkswagen Tiguan SUVs to fix electrical problems that can cause fires.
VW says the LED modules for the ambient light bars for the panoramic sunroofs can short-circuit, something that has already occurred with a few SUVs.
The automaker learned in April 2017 about a Tiguan fire and in May 2018 a Tiguan fire was reported from California. Engineers found high humidity in the light modules, either from the environment or by leaving the sunroof open in the rain, caused short circuits in the modules.
A driver will likely notice smoke coming from the front of the sunroof frame and a burning odor, a definite sign to get out of the Tiguan and call 911.
The National Highway Traffic Safety Administration says VW dealers will disconnect the power for the sunroof LED modules until a permanent fix is available. But Volkswagen told dealers they should apply aluminum tape to the modules to prevent overheating.
Volkswagen already started mailing recall notices to affected Tiguan owners, but you should verify with your dealer exactly what is being done to fix the problem.
Owners of the 2018 Tiguans may call VW at 800-893-5298 and ask about recall number 60D1.
CarComplaints.com has complaints from owners of Volkswagen Tiguan SUVs.