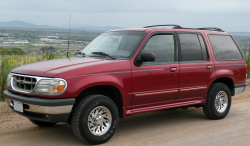 — A 1998 Ford Explorer rollover crash in 2015 has cost Ford nearly $152 million after an Alabama jury ruled in favor of a man left paralyzed after the SUV rolled over twice.
Travaris "Tre" Smith was a passenger in the 1998 Explorer when the driver allegedly lost control of the vehicle while trying to elude an animal, breaking Smith's spine and leaving him paralyzed.
The lawsuit alleges Ford engineers tried to get the automaker to change the design of the 1998 Explorer, a request Ford allegedly declined only to change how tests were conducted on the SUV.
The plaintiff claims rollover dangers caused Ford to test Explorers by using computer simulation instead of real-world driving. However, the automaker allegedly destroyed original test results and data by saying it was too expensive to maintain.
Lawyers for the plaintiff say that claim is absurd because a simple $100 thumb drive could have saved the test results and data.
According to attorneys for Smith, Ford has paid one of its experts more than $75 million the last 16 years to defend the automaker in rollover crashes. In addition, Ford allegedly altered tire sizes and tire pressures instead of redesigning the 1998 Explorer.
The jury found the 1998 Explorer couldn't even pass Ford's own safety standards for rollover resistance and then the automaker allegedly tried to conceal the rollover dangers.
The jury awarded Smith more than $51 million in compensatory damages and $100 million in punitive damages.
In response to the verdict, Ford says while it has sympathy for Smith and his family, the jury made the wrong decision because the judge blocked importance evidence related to the 1998 Explorer. In addition, the automaker says the choice to leave out critical rollover evidence leaves Ford no choice but to appeal the verdict.
The 1998 Ford Explorer rollover crash lawsuit was filed in the Circuit Court of Dallas County, Alabama - Travaris D. Smith, v. Ford Motor Company, et al.
The plaintiff is represented by the Beasley Allen Law Firm, and Gamble, Gamble, Calame and Jones.