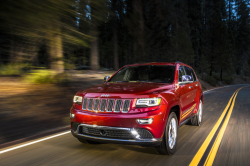 — Model year 2014 Jeep Grand Cherokee seat belts that don't retract are under investigation after the National Highway Traffic Safety Administration (NHTSA) received 18 complaints about seat belt problems, and the cost to repair those problems.
Safety regulators say the front seat belt may fail to retract due to a cracked plastic guide related to the B-pillar D-ring.
NHTSA says the front seat belts won't fit correctly and apparently the only thing that can be done is to replace the seat belt assemblies.
But according to owners of 2014 Grand Cherokees, the cost to replace just one seat belt assembly averages at least $500.
"The front passenger seatbelt all of a sudden started to not retract. It came to a point where the passenger would strap in the belt and they would have enough room on their lap for an additional 2 people in order for belt to feel secure. I Reached out to 2 different Jeep dealers in my area and received a quote for about $540.00 before taxes. There should be an open and active recall for this as it is a safety issue!"
"Started with the passenger belt first, then a year later the driver's side experienced the same defect. Tested the retraction system and that still works fine, but the belt gets pinched in the shoulder point due to a crack in the plastic material and prevents it from retracting. Jeep said they would not cover it and would cost us $1000.00 for parts and labor."
The 2014 Grand Cherokees will be placed under a preliminary investigation to determine if a recall of 281,000 vehicles is necessary.
NHTSA didn't announce additional details about the Chrysler Jeep Grand Cherokee investigation, but CarComplaints.com will update our website with results of the investigation.
CarComplaints.com has complaints from drivers of 2014 Jeep Grand Cherokees and other Grand Cherokee model years.