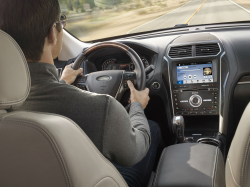 — Model year 2017 Ford Explorers are recalled after reports of at least 31 hand injuries caused by seat frames with sharp edges that can severely cut occupants who reach between the power front seats and the center consoles.
Ford says more than 338,000 model year 2017 Explorers are recalled following complaints such as this one from a Texas driver of the 2017 Ford Explorer.
The problem isn't just about suffering minor scrapes or small cuts from metal edges.
"Extremely sharp metal tabs stick out nearly 1" from the inboard side of both driver and passenger seats. Tabs are intended to hold plastic tabs on seat covers however both of mine were not installed properly or had come off in the 6 months we'd owned the vehicle. This tab cut my hand wide open and cut tendons while reaching for my keys that had dropped. Surgery was required. This sharp metal tab is like a knife and I would like to see this problem corrected fleetwide (filing down the edges would be a very simple fix) to ensure others aren't maimed like I was. It's not unreasonable to see how someone could cut a wrist with a risk to life." - 2017 Ford Explorer owner
The 2017 Ford Explorer recall includes 311,907 vehicles in the U.S., 23,380 in Canada and 3,045 in Mexico, and all the SUVs were built in Chicago between February 13, 2016, to October 25, 2017.
The National Highway Traffic Safety Administration (NHTSA) hasn't released details about the seat frame recall, but Ford dealerships will install tape to the exposed edges and tabs on the inboard sides of the power seat frames.
Ford says occupants should avoid any contact with the seat frame edges until repairs are completed.
If you own a 2017 Ford Explorer and have concerns, call the automaker at 866-436-7332 and ask about recall number 19S29.
CarComplaints.com has owner-reported complaints about 2017 Ford Explorers and other Explorer model years.