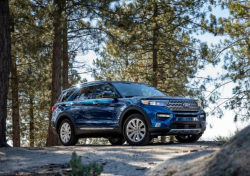 — A Ford Explorer recall has been issued for 2020 model year SUVs equipped with 2.3-liter and 3.3-liter gas engines.
More than 10,650 Explorers are included in the recall that was ordered due to wiring harnesses that may not have been properly secured.
The harnesses could make contact with the air conditioning pulleys and damage the harnesses or the air conditioning drive belts.
But Ford says that isn't the end of possible problems because the air conditioning pulleys can rub through the wiring harness insulation and allow the harnesses to contact the "unfused B+ circuit, resulting in a short circuit and possible fire."
However, the automaker is unaware of any crashes, injuries or fires related to the harnesses.
All the recalled Explorers are in the U.S. and were built in Chicago between May 28 and July 18, 2019. Technicians will secure the wiring harnesses and make necessary repairs, but Ford didn't say when the Explorer recall will begin.
Customers may call 866-436-7332 and use reference number 19S32.
CarComplaints.com has complaints from drivers of Ford Explorers.