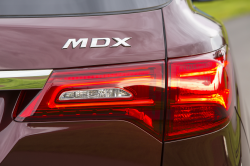 — An Acura MDX tail light recall has been ordered for 360,000 model year 2014-2019 MDX SUVs and 2017-2019 Acura MDX Sport Hybrids worldwide, with 323,000 of those vehicles recalled in the U.S.
The Acura MDX has problems with tail light seals that can deform and allow water into the light assemblies. Intruding water may travel to electrical components and any contact with open circuits will cause tail light failures.
But it's also possible a short-circuit could trip the light fuse and deactivate the exterior lights and even certain interior lights.
Honda started receiving exterior lighting complaints in February 2014 that caused an internal investigation which confirmed moisture was entering the tail lights located on the tailgates, so a change was made to stronger gasket materials and the use of adhesives.
However, more complaints arrived and caused a second investigation and another design change to better seal the tailgate lid lights from water.
That paved the way for more complaints and a third internal investigation which led to different gaskets that were more resistant to deformation.
As of March 21, 2019, Honda received 4,414 warranty claims but no reports of crashes or injuries.
The MDX recall is expected to begin April 29, 2019, when dealerships will replace the gasket seals in both tail lights located on the tailgates. Damaged tail light assemblies will also be replaced and it's possible technicians will replace the wiring harnesses associated with the tail lights.
If you own a 2014-2019 Acura MDX or 2017-2019 Acura MDX Sport Hybrid and have concerns, call the automaker at 888-234-2138. Honda's number for this recall is M49.
Read what Acura MDX owners have told CarComplaints.com about their vehicles.
Acura MDX Complaints - 2014 / 2015 / 2016 / 2017 / 2018 / 2019