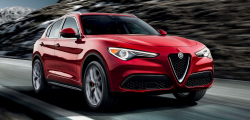 — Fiat Chrysler (FCA) is recalling more than 19,100 Alfa Romeo Stelvio and Alfa Romeo Giulia vehicles because of software problems located in the brake system modules.
The 2018-2019 Alfa Romeo Stelvios and 2017-2019 Giulias may prevent drivers from disabling the adaptive cruise control features after the traction control systems detect certain types of wheel slips.
Alfa Romeo learned of a problem in December 2018 when a company car wasn't able to deactivate the adaptive cruise control by pressing the brake pedal. Engineers investigated for weeks and finally duplicated the condition with adaptive cruise control activated in light snow.
According to the supplier, the defective software is in the brake system module, but FCA doesn't believe the problem is common because only one warranty claim has been filed.
A driver may notice unexpected acceleration while adaptive cruise control is activated and the traction control detects a specific wheel slip. Chrysler says a crash is possible if the driver doesn't shift to neutral or apply the brakes to stop the vehicle.
Owner notifications are taking place now with instructions to get the vehicles to dealerships so technicians can update the brake system module software.
Customers with questions should call 800-853-1403 and ask about Alfa Romeo recall number V27.